I am finally back! Dark Faerie Tales. Today's Adventure. Investment Opportunity. Back to Books. Bring Me Back by B. The Hiding Spot. Suzanne McLeod. Dairy Free Shortbread Biscuits - Recipe. Minding Spot. Book Nerds. Hello world! Happy Holidays: Part 2. Red House Books. Strange Weather by Joe Hill Spotlight. Beyond Books. Top 5 Canadian Finance Books. The Book Cellar. Karen Dales, Author.
Shooting Stars Mag. Dirty Deeds by HelenKay Dimon. Tynga's Reviews.
Early Review: A Sliver of Shadow (Abby Sinclair #2) by Allison Pang
The Heart of Betrayal by Mary E. Deadline Dames. New Release: Night Magic. The Bookette. Southern Princess. Faith Moved Mountains Pt. The Compulsive Reader. What I've Been Reading Lately. A Reader's Adventure! A Revamp. Laura's Review Bookshelf. Book Review- The Nightingale. Books, Books and more Books. Amberkatze's Book Blog. Wondrous Reads. Sharon Loves Books and Cats. Get past human anatomy class right Away. First Novels Club. Smart Girls Read. New Newsletter, New Contest. Ellz Readz.
Book Chat. Tales of Whimsy. Read Bree. A Life Bound By Books. Where is she? A BookLover's Diary. PC's Blog. I'm touring again! Sometimes with Kristin! Rex Robot Reviews. Lady Renegades by Rachel Hawkins [Review]. The Bibliophilic Book Blog. Sarah's random musings Blogging and Confidence. Book Crazy. I should apoligize.. I Want To Read That. I want to read that Find the Time to Read. Review Beyond Ruin Beyond 7.
Mindful Musings. Good Gone Girl Book Reviews.
ONLY TODAY!.
Until They Have Faces: 110 Interviews With the Homeless People of Auburn, California?
Thanks for stopping by!;
The Magic Garden.
More Books by Allison Pang.
Love and Betrayal.
Urban Fantasy Author.
YA Book Queen. The Eclectic Reader. All Good Things Come to an End. Ulat Buku in the City. Apocalypse Later. Where I talk about Scorched. Rangers Lead The Way. Irish Girl Reads. Kulakan Mukena Bali spandek. YA Book Geek. Easy Mondays. Sweet Vernal Zephyr. Reviewing Guidelines. What Bri Reads. Bloody Bookaholic. Welcome to Larissa's Bookish Life.
BAM Book Reviews. Throne of Glass by Sarah J. Yankee Romance Reviewers. Hope's Bookshelf. Review: Vendetta by Catherine Doyle. Cornucopia of Reviews. Geek Girl Winner! Blog Tour: My Best Everything. Juiciliciousss Reviews. I'm Back! Park-Avenue Princess. Going Under. Carrie's Procrastinatory Outlet. Behind the Scenes of The Map to Everywhere: origins. Julie Kagawa. Sophistikatied Reviews. Elitist Book Reviews.
Get A Copy
The Broken Eye. Release round-up giveaway with hunky quiz component!! From the Heart. Decorating Designs. Jocelynn Drake. Launching a New Website. Shut Up! I'm Reading. This is where you update your feed readers. Rebecca's Book Blog. Book review: Unspeakable by Caroline Pignat. Dreaming of Books. Leontine's Book Realm. Steph Su Reads. The Book Muncher. All good things must come to an end.
Book Junkie. Courtney Allison Moulton. Permanent move! Good Golly Miss Holly. Vampire Wire. Mondo Christmas E-Book Giveaway! The Selection by Kiera Cass. Wrighty's Reads. Giving thanks. Blog Tours. Long Hairstyles part Teens Actually Read. Book Fanatics. Review: Breaking Nova by Jessica Sorensen. Confessions of a Bookworm. The Neverending Shelf. This or That with Amy Plum. Fallon Blake. Meghan's Book Blog. The Real Real Giveaway. The Bookishville. En Libro Abierto.
A Passion for Books. Hitting the Shelves : March Debuts. Sara's Urban Fantasy Blog. Best Beauty services. And Anything Bookish. The Archived by Victoria Schwab. Reading for Winter Break. The Book Blogger. Perspective: Fan Fiction. The Forsaken by Lisa M. Stasse Signed Copy Giveaway!!
Teens Read and Write. Horror and Fantasy Book Review. StoryWings Has Moved. Wicked Good Books. Armchair BEA Introduction. Harmony Book Reviews. Endure by Carrie Junes. Destined by Aprilynne Pike. Penultimate Page. Bite Club. Bite Club has moved! Books Obsession. Books At Midnight. Pearl's World of Romance - Reviews with a Passion. Announcement: Pearl's World of Romance has moved to Wordpress. YA Book Realm. Black and Blue Ink Reviews. Waiting on Wednesday- Under the Never Sky.
Patricia's Vampire Notes. A Sad But Fond Farewell. My Tea Time is Book Time. The Miraculous Journey of Edward Tulane. Merry Christmas. My Ever Expanding Library. Moving Out! Just Your Typical Book Blog. He Followed Me Home. Can I Keep Him? I Love Books. Friday Finds [61]. Flipping Pages for All Ages. Book Reviews by Jess. Cleverly Inked. Falling Off The Shelf. I'm coming back! LovLivLife Reviews. Library Lounge Lizard. A Few Good Reads The Bookie Bunch. New blog. Books, Boys, Buzz I'm going to Disney World!!! Extreme Reader Book Review. Author Drop In The Bookologist. Shatter Me by Tahereh Mafi.
Reading Rocks. The Returning by Christine Hinwood. Carrie's YA Bookshelf. Tuning Into YA Books. Cliche Much? Haven't We Seen that Before? Write for a Reader. I Can Breathe Again For Now. Fantasy Dreamer's Ramblings. New Book Releases Calendar - Ongoing. Mini Vacation.
Urban Fantasy Investigations: Guest Post & Giveaway: A Sliver of Shadow by Allison Pang
The Book Lush. Hello there! Review: River Marked by P. Books for Grabs. ISBN: Characteristics: p. Summary: Abby ventures to the CrossRoads, but nothing in the beautiful, dangerous realm will compare to the discoveries she's making about her past, her destiny, and what she will sacrifice for those she loves.
A Sliver of Shadow
Series: Pocket Books urban fantasy. From the critics. Comment Add a Comment. Age Add Age Suitability. Summary Add a Summary. Notices Add Notices. Quotes Add a Quote. Hell — Fiction. Demonology — Fiction. Fairies — Fiction. Fantasy Fiction.
A Sliver of Shadow
A Sliver of Shadow
A Sliver of Shadow
A Sliver of Shadow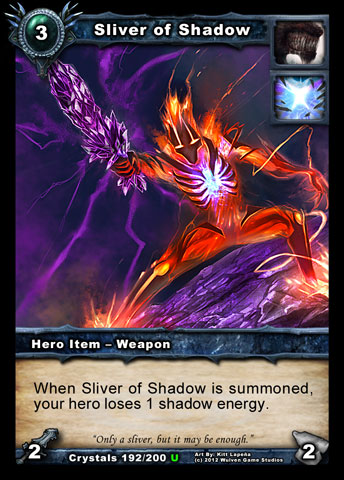 A Sliver of Shadow
A Sliver of Shadow
---
Copyright 2019 - All Right Reserved
---